From Aveda Student to North American Student Hairstylist of the Year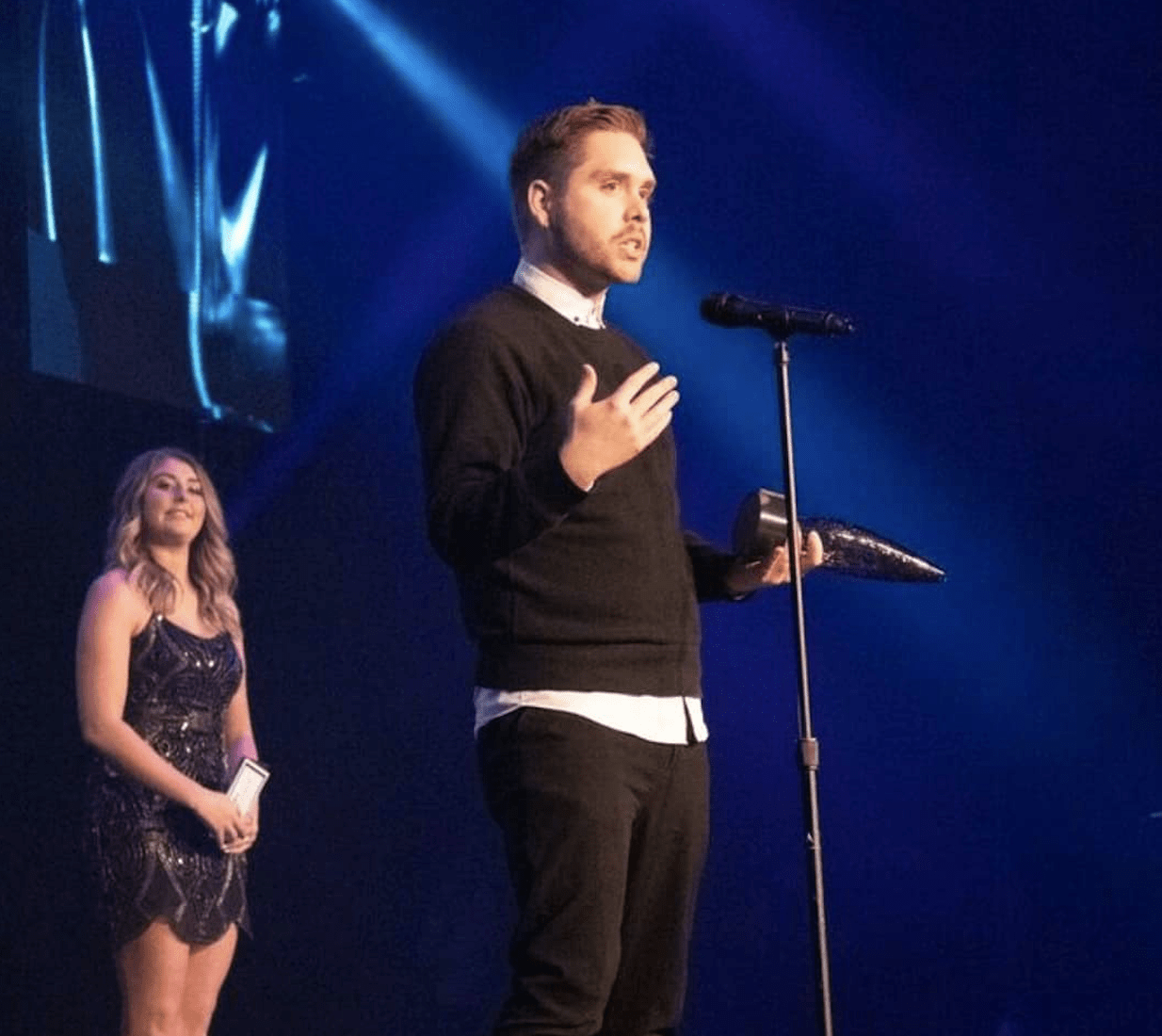 Most hairstylists have to graduate cosmetology school before they become a Very Big Deal in the beauty world—but not Jesse Ervin! While attending the Aveda Institute Toronto in 2016, Jesse made a splash in the industry as one of the winners of the Professional Beauty Association's North American Hairstyling Awards (NAHA). The category: Student Hairstylist of the Year.
For the next three years, Jesse placed as a finalist in NAHA's Newcomer of the Year category. Today, he's a top editorial and fashion stylist and works behind the chair by appointment at Luum Salon in Lethbridge, Alberta.
We caught up with Jesse to ask about his student experience competing in (and winning!) a world-renowned creative hair competition, the first of many accolades in his exciting career.
WHEN DID YOU FIRST DECIDE YOU WANTED TO COMPETE IN NAHA? WHY?
As soon as I started hair school I found out about the NAHAs and was so intrigued. I would study all the collections and fantasize about entering. It seemed so cool to create a collection like the ones I stared at for hours. It is one of the many awesome things about our industry—so many avenues to venture into!
When I first started school, I made a five-year career plan. One of my goals for year five was to be a finalist at the NAHAs. I figured I would give it a shot while still in hair school, just for fun and to start getting better at photographing hair. I did not expect to finalize—and especially not win—as a student!
HOW DID YOU LEARN THE PROCESS OF PREPARING AND ENTERING A COMPETITION OF THIS CALIBER?
I am naturally a planner and organizer, so I started by studying the images from NAHA and its UK counterpart, the British Hairdressing Awards. I wanted to see how a collection looks in its final stage. I didn't just study the hair—I would look at the models, their expression, wardrobe, the crop of the images, the balance of makeup to hair—all that stuff.
I would go through the day of the shoot in my head and think of everything that needed to happen. I would make schedules and problem-solve potential issues before they happened. Other than that, I did not really know anything about putting together a collection!
My soon-to-be mentor had experience shooting haircuts for big campaigns and collections, so he helped with some finer details once I had my models, mood, and ideas planned out.
Jesse's NAHA Award-winning student collection.
WHAT INSPIRED YOUR COLLECTION? DID YOU ENTER IT WITH ALL THE TECHNICAL SKILLS TO EXECUTE YOUR VISION, OR DID YOU MASTER NEW SKILLS ALONG THE WAY?
I remember being so entertained looking at Roger Ballen's work. It was so jarring and a little uncomfortable and I really loved the way his work made me feel. I think he was the first artist that ever made me feel so much by just looking at images. I wanted to create a collection that made me feel like that, and hopefully made whoever looking at it feel a certain way—whether it be disgusted, intrigued, or whatever. Understanding the power of imagery is one of the most important things I've learned in my career so far.
I had zero hair experience going into school, so I felt like I had the ideas and the tools but just had to work longer to perfect my looks technically. I spent hours on each haircut over multiple days trying to perfect them. I remember cutting a look for a few hours, then taking pictures of every angle of the unfinished look. I would study the photos before bed to see where I wanted to go next and would have the model back the next day to work more. This was really helpful as I still find it easy to over-cut or overlook small details in the moment.
WHO HELPED YOU THE MOST IN YOUR NAHA EXPERIENCE?
My soon-to-be mentor Tristin Morrison was my go-to by the end of my program. He had the most experience at the Aveda Institute Toronto in shooting campaigns and collections with Aveda's Global Team. But everyone at the Institute was quite supportive of me, as I was the first person to shoot for NAHA at my school and they were excited about it.
DESCRIBE THE FEELING OF LEARNING YOU WERE CHOSEN AS STUDENT HAIRSTYLIST OF THE YEAR! WHAT WAS THAT MOMENT LIKE?
I was working at the Institute when finalists were announced, and one of the classes was watching the announcement. One of my colleagues came down to invite me upstairs to watch after they found out I was a finalist—she had a big grin but was not trying to give it away, ha ha! As I was walking upstairs to the classroom I was getting DMs from people congratulating me, so it took the edge off having to watch the video in the group. I really don't like to be the center of attention! For the next three NAHA collections I entered, I always booked my lunch or took the day off work when the finalists were announced, so that I could watch the finalist video alone!
WHAT CAREER DOORS HAS THIS AWARD OPENED UP FOR YOU?
It got me attention from the Aveda Canada team, which was exactly who I wanted to be working with. It led to me helping them out for their shoots and shows. Shortly after that was Aveda Master Jam in Milan which they brought me to. It was my first work trip and it couldn't have been a more inspiring one! A few collections later I was assisting Antoinette Beenders and the global team at their NAHA presentation, and that was one of my most memorable life experiences, for sure! If you have not seen their NAHA presentations, stop reading and YouTube it now, they are never to be missed!
WHAT DO YOU WISH YOU HAD KNOWN BEFORE YOU ENTERED THE COMPETITION?
I'm not sure if I wish I had known anything, to be honest. I knew it was going to be fun, I knew it would open opportunities for me, but the excitement came from the unknown of what would happen. Maybe I wish I had known how expensive it would be and to start saving for next year's collection, haha!
WHAT IS THE MOST VALUABLE PIECE OF ADVICE YOU COULD GIVE A STUDENT HAIRSTYLIST COMPETING IN NAHA?
It is a good idea to study what collections have previously made finals for NAHA as a loose guide, but do not compromise your vision and creativity for what you think they will like.
You need to make sure the final images are the best representation of your vision. Don't compromise anything because you only want to win. You will have these images for the rest of your life, and you want them to represent the purest form of your creativity.
Ready to start the career of your dreams? Contact us to get started today!